Review By: Liza
Wearing something to make us look beautiful can boost our confidence. Many women might not care for wearing make up, but most of them that I know, do. When I look at magazines and see women who look gorgeous because they have great eyelashes, lips and cheeks, I can't help but wonder if I would also look that good if I apply some beauty products the way they do. People study to learn how to apply proper beauty products and all. If others are conscious about their hair, skin, body, and all, I am conscious about the way I look especially when I go outside my home and meet other people, particularly women. Women can be competitive when it comes to their looks.
When I had an opportunity to review some Starlooks beauty products, I got excited, because I knew that once I applied it to myself, it will change the way I look. I see how it can make women transform into this Hollywood look alike. Well, it might not happen to me, but I believed and was very confident that I will look a lot better than my normal housewife and mommy look.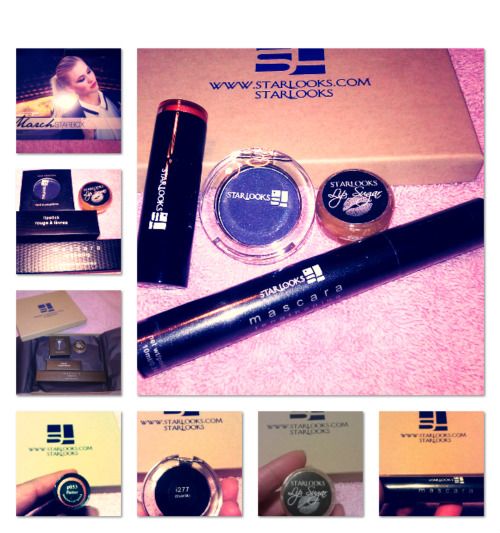 I received the March Starbox Collection from Starlooks consists of Lengthening Mascara, Lipstick in Flutter shade, Eyeshadow in Disarray shade and Lip sugar. At first I was kind of nervous, what if I applied it to myself and my looks won't improve, then I will be a failure. After washing my face, put some moisturizing on, some other stuff on my face, I immediately applied my eyeshadow and it made a big difference, then the gorgeous color of the lipstick and I was lucky enough to find my eyelashes curler. Can you tell that I don't use it very often? but anyhow, I took a photo of myself before I applied all the Starlooks products and yaiks, I told myself "Boy I am ugly.." After applying my Starlooks beauty products, I looked in the mirror and asked myself "Whoa! who's that gorgeous woman staring at me?" Hahaha! it's my story and I am sticking to it.
I went back to their website and I browsed for some more products and oh boy! I think I will get addicted to shopping for more. I am so glad that they offer a 20% discount on their eye products until May 1, 2013 if you enter the coupon code EYEDEAL318
If I were you, I will check out http://starlooks.com/ and take advantage of this great offer. Start looking like a star while using the Starlooks beauty products.
For upcoming sales, promotions and events, you can
Follow them on Twitter
LIKE them on Facebook
Follow them on Pinterest
Subscribe to their You Tube